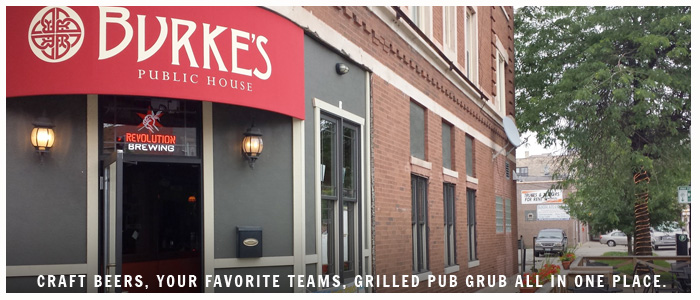 Save
Side Walk Cafe Now Open!
First Come, First Serve Seating
1 hour limit on seating
Thank you for Supporting Local Businesses!
$5 Leinenkugel Summer Shandy
all summer
Select Cocktails, Beer and Wine also available for Carryout
EDGEWATER'S FRIENDLIEST HANGOUT
Welcome to Burke's. A neighborhood sports pub in the most eclectic of Chicago's neighborhoods. Great, fresh, homemade American fare – made to order, paired with a relaxed atmosphere and our world-class local craft beer selection. Catch a game or just catch up. Brendan and his convivial staff will make sure you get caught up in the action – Edgewater style.
5401 N. Broadway Ave. Chicago, IL
Corner of Broadway & Balmoral
WE'RE OPEN!
Patio Seating, Indoor Seating and Carryout Available
Please Call us at 773-944-1109
OPEN
Tuesday-Friday 4-9PM
Saturday & Sunday 1-9PM
Thank you for supporting local businesses