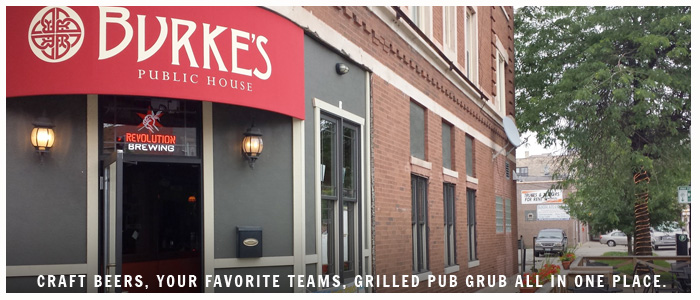 Save
It's CHI-RISH Season!
EDGEWATER'S FRIENDLIEST HANGOUT
Welcome to Burke's. A neighborhood sports pub in the most eclectic of Chicago's neighborhoods. Great, fresh, homemade American fare – made to order, paired with a relaxed atmosphere and our world-class local craft beer selection. Catch a game or just catch up. Brendan and his convivial staff will make sure you get caught up in the action – Edgewater style.
5401 N. Broadway Ave. Chicago, IL
Corner of Broadway & Balmoral
GET HAPPY
Come join us for Happy Hour! Come and try our draft beer selection for $2 off on  weekdays from 4-6pm! From local craft breweries like Half Acre to Imports such as a properly poured Guinness. Fantastic Draft Selection includes Great Lakes, Flying Dog, 5 Rabbits, Apex,  Two Towns Cider, Stella and Blue Moon. A draft for every taste and every mood!
So come and get your CHIrish on at Burke's Public House!
© 2018 Burke's Public House. All Rights Reserved.